Thinking the Twentieth Century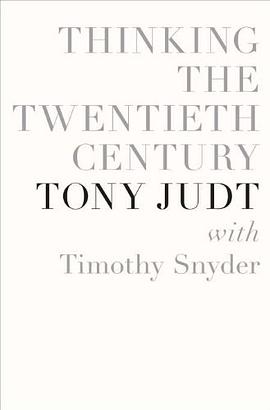 作者:Tony Judt / Timothy Snyder
出版社:Penguin Press
出版年:2012-02
ISBN:9781594203237
One of our most brilliant historians, Tony Judt brings the past century vividly to life in this unprecedented and original history. Structured as a series of intimate conversations between Judt and his friend and fellow historian Timothy Snyder, Thinking the Twentieth Century presents the triumphs and the failures of the twentieth century's most prominent intellectuals and their ideas, guiding readers through the debates that defined our world. Spanning an era with unprecedented clarity and insight, Thinking the Twentieth Century is a tour de force: a masterful analysis of the life of the mind and an unforgettable guide to leading the mindful life.
......(更多)
Tony Judt (1948–2010) was the author or editor of fifteen books, including The Memory Chalet and Postwar, which was a finalist for the Pulitzer Prize. He was the director and founder of the Remarque Institute and a professor at New York University.
Timothy Snyder is a professor of history at Yale University and the author of five award-winning books, most recently Bloodlands: Europe Between Hitler and Stalin. He lives in New Haven, Connecticut.
......(更多)