The Airbnb Story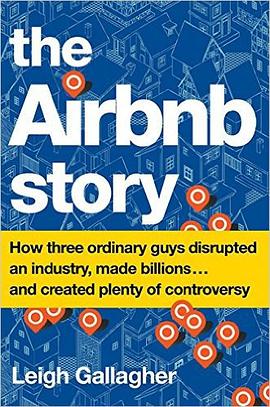 作者:Leigh Gallagher
副标题:How Three Ordinary Guys Disrupted an Industry, Made Billions . . . and Created Plenty of Controversy
出版社:Houghton Mifflin Harcourt
出版年:2017-02
ISBN:9780544952669
This is the remarkable behind-the-scenes story of the creation and growth of Airbnb, the online lodging platform that has become, in under a decade, the largest provider of accommodations in the world. At first just the wacky idea of cofounders Brian Chesky, Joe Gebbia, and Nathan Blecharczyk, Airbnb has disrupted the $500 billion hotel industry, and its $30 billion valuation is now larger than that of Hilton and close to that of Marriott. Airbnb is beloved by the millions of members in its "host" community and the travelers they shelter every night. And yet, even as the company has blazed such an unexpected path, this is the first book solely dedicated to the phenomenon of Airbnb.
Fortune editor Leigh Gallagher explores the success of Airbnb along with the more controversial side of its story. Regulators want to curb its rapid expansion; hotel industry leaders wrestle with the disruption it has caused them; and residents and customers alike struggle with the unintended consequences of opening up private homes for public consumption. This is also the first in‑depth study of Airbnb's leader, Brian Chesky, the quirky and curious young CEO, as he steers the company into new markets and increasingly uncharted waters.
......(更多)
LEIGH GALLAGHER is an assistant managing editor at Fortune and the host of Fortune Live. She is also cochair of the Fortune Most Powerful Women Summit and oversees Fortune's 40 Under 40 editorial franchise. She appears regularly on CBS This Morning, Marketplace, CNBC, and many other programs.
......(更多)